Easy pay
Customer support 24/7
Change dates free of charge
Cancel the reservation within 7 days
Blog

19.10.2023.
Booking Steps | How to Rent a Car
Discover how to rent a car with ease using MontenegroCar's simple booking steps. Our guide walks you through each stage, ensuring a smooth experience.
Embarking on a journey often comes with its own set of challenges, and securing the right mode of transport shouldn't be one of them. Whether you're traveling for business, leisure, or any occasion in between, the process of renting a car should be straightforward and hassle-free. That's where MontenegroCar steps in. If you are wondering how to rent a car, this guide will take you through our intuitive and user-friendly website, detailing each stage of the booking process so you can secure your desired vehicle in just a few clicks.
Why Choose MontenegroCar
MontenegroCar stands out as a beacon of reliability and convenience in the country. First and foremost, our diverse fleet ensures that every traveler finds the perfect match for their journey. Beyond our vehicles, our competitive rates ensure excellent value. But what truly sets us apart is our unwavering commitment to customer satisfaction. From our easy-to-navigate website to our dedicated customer support team, every touchpoint is designed with your comfort and convenience in mind.
Step By Step Booking Guide
Start off by visiting the MontenegroCar homepage. Our homepage welcomes you with clear navigation options and the booking form is the first thing you see below the cover photo. It's clearly labeled with options like 'RENT A CAR', 'DELIVERY', and 'TRANSFERS'.
Just below these labels, there are spaces for you to fill in details like your pick-up location, dates and times of pickup and dropoff. Once you've filled in these details, you can click on the button labeled 'Reservation' to begin the booking process.
Step 1: Choose your Preferred Vehicle
Moving on to the next page, this is where you'll choose the type of car you want to rent.
Filter Options: At the top, you'll notice a row of filter buttons such as 'Convertible', 'Hybrid', 'Limousine', and so on. By selecting any of these, you can filter the list of vehicles to show only those that match your preference. For instance, if you want an SUV, just click on the 'SUV' button, and you'll see only SUV options.
Vehicle Display: Below the filters, there's a display of available vehicles. Each vehicle card provides important details:
Vehicle Model: For instance, 'Renault Twingo' or 'Škoda Fabia'.
Key Features: These icons will tell you about the vehicle's seating capacity, fuel type, number of doors, and luggage capacity.
Pricing Options: You'll see two price options: 'Pay later' and 'Pay now'. The 'Pay now' option comes with a discount, so if you're sure about your plans, you can save some money by choosing this option.
More about Vehicle: If you're interested in a particular vehicle and want to learn more about it, there's a link labeled 'More about vehicle'. Clicking on it will give you more detailed information about the car model and its features.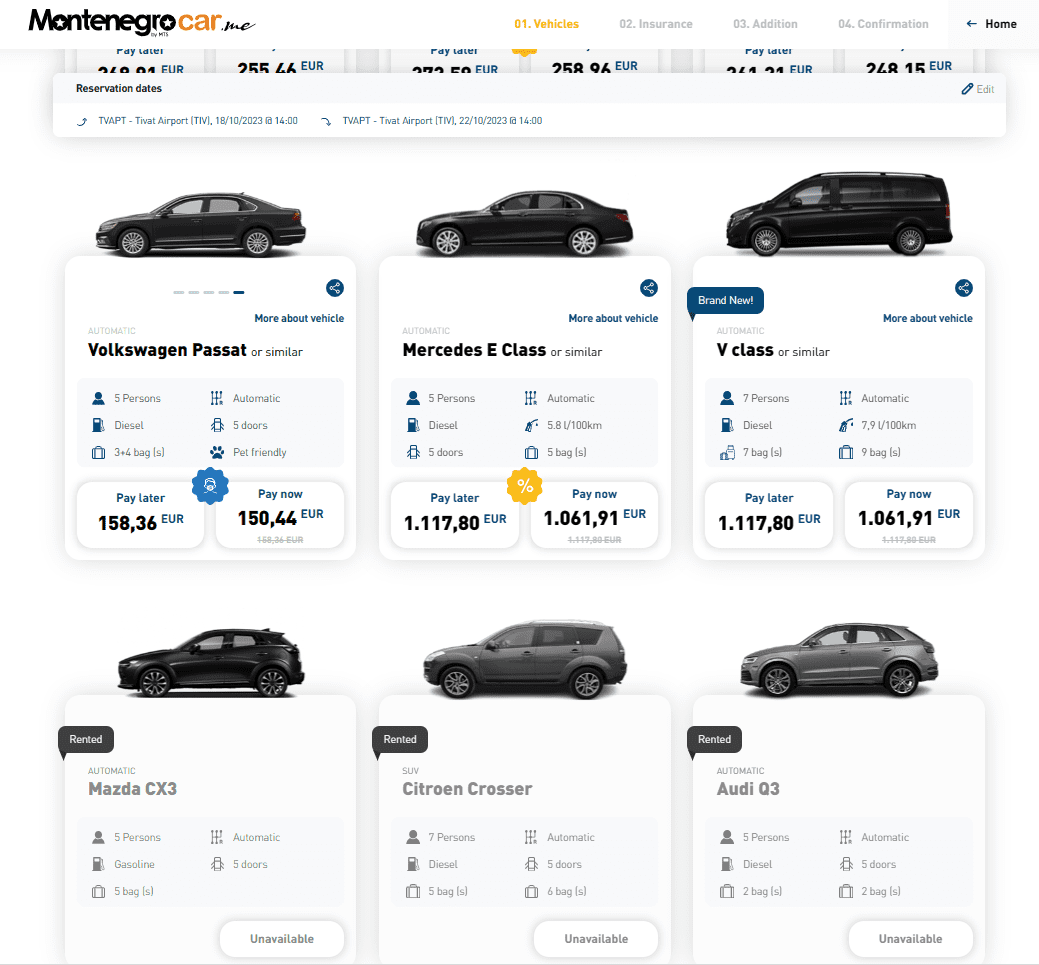 It's important to note that at the very bottom of the page, you'll find vehicles that are already booked and are no longer available for the dates you've selected. This highlights the advantage of booking in advance: the earlier you book, the wider the range of vehicle models you'll have to choose from.
Once you've made your selection, proceed to the next step in the booking process.
Step 2: Selecting your Insurance
 After selecting your vehicle, you will be directed to the 'INSURANCE' page. Here, you'll decide on the type of insurance coverage you'd prefer for your car rental.
Types of Insurance Coverage:
On the right side, you'll find three main types of insurance:
Total Liability: This offers standard damage coverage with a specified deposit amount.
Conditional Liability: This Insurance covers both Theft Protection (TP) and Collision Damage Waiver (CDW). Drive with confidence and a piece of mind, knowing you're shielded from unexpected theft or damage costs.
Zero Liability: This gives you the utmost protection, reducing your liability costs to zero in case of damages or accidents.
Each insurance option showcases:
Damage Coverage (Excess): Damage excess is equal to the deposit. That means you're responsible for any damage up to the amount of your deposit.
Deposit: The amount you need to deposit, which will be returned to you if the vehicle is returned without damages.
Additional Protections: These include TP (Theft Protection), CDW (Collision Damage Waiver), SCDW (Super Collision Damage Waiver), and WUG (Wheels Undercarriage and Glass Protection). A checkmark indicates that the protection is included in the insurance option.
Price: The cost of the selected insurance plan.
Once you've reviewed the details and decided which insurance option is right for you, click on the 'Select' button beneath your preferred choice. The chosen option will then be highlighted with the 'Selected' label. After finalizing your insurance choice, click on the 'Continue with reservation' button at the bottom of the page. This will move you forward in the reservation process.
Step 3: Additional Car Equipment and Amenities
From the "ADDITION" section of the Montenegro car rental service, the following additional services and their respective prices are being offered:
SIM card: If you've traveled abroad and need the possibility of cheap calls and internet in Montenegro, you can purchase a SIM card.
Additional driver: If you are too tired to drive or if the rental contract is only under one person's name, you can add an additional driver for your car rental.
GPS: For those unfamiliar with the roads in Montenegro, a GPS device can be added which always suggests the most economical routes and helps in finding specific locations.
PAI Insurance (Passenger insurance): This covers cases of accidents, injuries, or death of a passenger or the driver.
Delivery: If you don't want to come to the office to pick up the car, MontenegroCar offers a delivery service to your home, office, apartment, or hotel.
Collection: If you'd like to leave the car at a specific address in Montenegro, such as the airport, they offer a collection service.
Border Crossing Fee 1: If you plan to visit neighboring countries like Croatia, Serbia, BiH, and Albania, you can get permission.
Border Crossing Fee 2: For those planning to visit countries in the wider Balkan area like Slovenia, Hungary, N. Macedonia, Bulgaria, and Greece.
Border Crossing Fee 3: If you intend to travel outside the Balkans to other EU countries.
Child seats: Ensure the safety of your youngest passengers and fulfill your legal obligations by opting for these seats.
Child seat booster: A booster seat to elevate and secure younger passengers.
Mobile internet: If you wish to stay connected on the go without incurring roaming charges, you can opt for the portable WiFi hotspot service.
Bike rack: For those who enjoy biking on their vacation but can't fit their bike in the car, a bike rack is available.
Roof case: If you have excess luggage and need additional storage, you can rent a roof box.
Select all the extra equipment and amenities that you need and proceed to the next step by pressing Continue with Reservation.
Step 4: Final Information and Confirmation
On the "Confirmation" page, you're presented with two main sections: "Individual" and "Legal entity."
The provided images highlight the required fields for both Individual and Legal entity tabs:
The Individual tab is designed for private persons who are booking for themselves. This typically means the driver is the person making the reservation and will be responsible for the trip.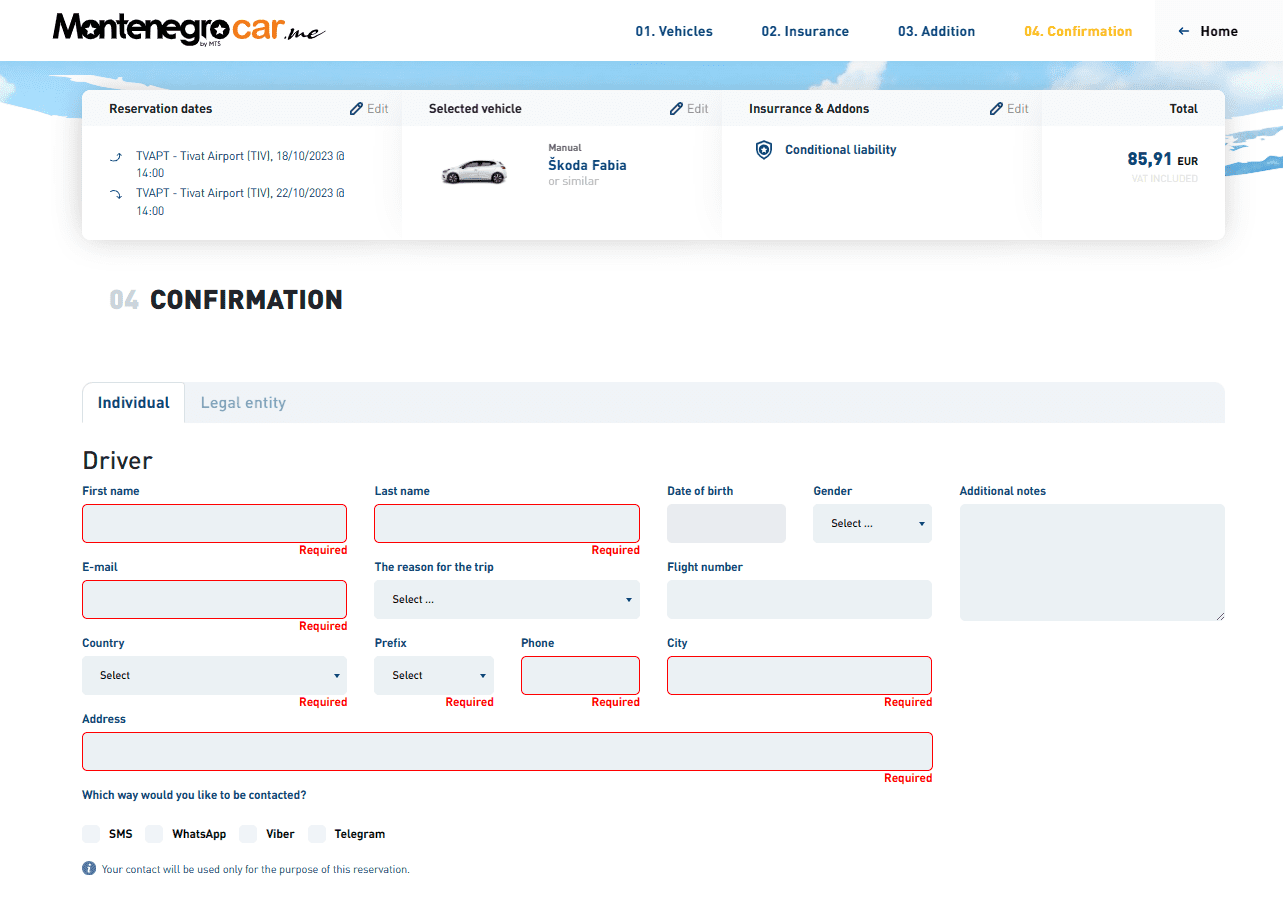 The Legal entity tab is intended for businesses or corporations. When selecting this, the form captures both company and driver information. This is useful for instances where a company might be booking on behalf of an employee or for business-related trips.
In both forms, ensure that all red-marked fields are filled out, as they are mandatory for the reservation.
Towards the end of your car rental booking process, ensure you grant permission to process your personal details, accept the general information and rental conditions, and agree to the payment terms. If interested, you can also opt to receive the rental company's newsletter. If you have a promo code, input it in the provided field and click "Check" to apply any discounts.
Once all the required fields are filled out, you'll proceed to the final step which is the Final Reservation. After submitting your reservation, you'll be taken to a 3D payment process. After finishing the payment process, you will be directed to the final confirmation page which provices specific details about your booking such as:
Reference Number:  Your unique reservation code.
Payment Amount: Total price for the service.
Payment Method: Displays the last four digits of the credit card used.
Transaction Date: Notes the date and time when the transaction took place.
Based on your preference, the service provider will contact you via your chosen method: SMS, WhatsApp, Viber, or Telegram to finalize or discuss any details related to your reservation.
Frequently Asked Questions (FAQs)
We understand that the car rental process can bring up questions, especially for first-time renters. MontenegroCar FAQ page will answers all your questions. In case there is anything unclear or you need additional information, feel free to contact our Support team, available 24/7.
Special rent a car offers
All the current special offers at MontenegroCar can be find on our dedicated Special Rent a Car Offers page.
Your journey matters to us. That's why, at MontenegroCar, every aspect of our service is tailored to provide you with an unparalleled car rental experience. From our vast fleet to our attentive support, we're here to ensure that your travel, be it for leisure or business, is smooth from start to finish. Ready to embark on your next adventure? Trust MontenegroCar to be your reliable travel companion and book a reservation today!